Artifact Paragraphs
Bayonet & Scabbard | General Charles Cruft's cabinet | Leather Cartridge Box | Rippetoe's Pistol | Rippetoe's Sword | Housewife Sewing Kit | Sharpshooter's Glasses
Bayonet and Scabbard
This is a .58 caliber rifle's bayonet and its triangular steel scabbard. The blade is made in a triangular fashion and is only sharp on two edges. The shape of the blade gives it a thicker core and thus, more strength.

At the onset of the Civil War, bayonet charges were still an active part of military strategic doctrine. The bayonet was used as a hand to hand weapon, effectively rendering a rifle to the status of a spear.

They served in situations where time to reload a rifle was not available. Bayonets were also used for hunting rifles as a defense if a large animal were to charge.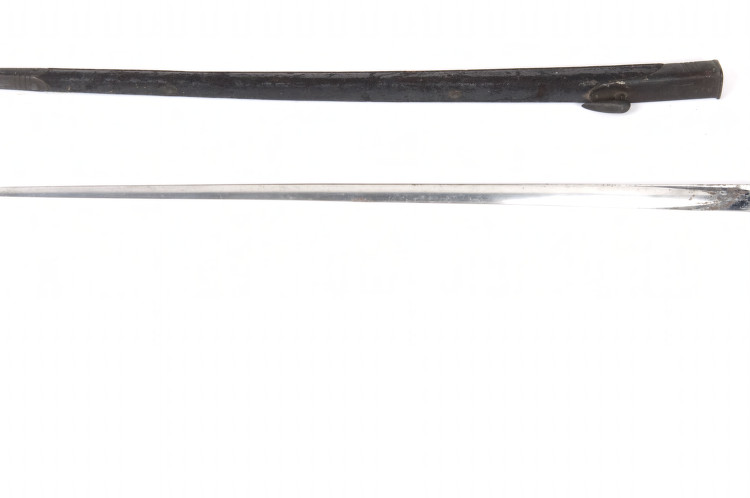 This model was made to be slipped over the muzzle of a rifle and tightened into place with a screw.

Unlike sabers of the time, this bayonet was cast from one piece of solid steel from tip to muzzle. This simplified the production process and made them difficult to break and very durable. The scabbard was also cast in steel and was strong enough to resist being crushed while protecting the blade from the elements. difficult to break and very durable. The scabbard was also cast in steel and was strong enough to resist being crushed while protecting the blade from the elements.
General Charles Cruft's cabinet
This is a letter cabinet belonging to General Charles Cruft of Terre Haute, Indiana. During the Civil War, this cabinet was used to hold dispatches, orders and personal correspondences and documents in an organized and secure fashion. The letter cabinet is small enough to fit on a table but large enough to potentially hold hundreds of letters and other office supplies. The cabinet is built with cubby holes for papers as well as writing implements. The whole of the cabinet is stained brown and lacquered. The doors are closed with a lock that is inside the cabinet itself. This prevents a spy or other such personage from simply busting a lock off the front. One would either have to destroy the cabinet or have a key in order to access it when closed and locked.
Leather Cartridge Box
Prior to the advent of self incased rim fire ammunition projectiles were fired by a paper cartridge full of black powder which was ignited by a blasting cap to fire a projectile forward out of the weapon's barrel. These powder cartridges had to be kept dry and organized while near enough to the soldier to be easily drawn and loaded into a rifle barrel. That is where the cartridge case came in handy. Most cartridge cases used in the Civil War were leather with tin holding frames on the inside of the case. In some cases the tin boxes inside the case actually had holes shaped for the cartridges to hold them upright for easy removal in combat. The average case could hold between 15 and 30 cartridges at a time.



This particular model was a later make than many cases. The original Union Army cases were identical with the exception of the front flap having a brass U.S. buckle for decoration. This case has a leather stamp instead.
Rippetoe's Pistol
The Model #2 was a brand new weapon which went into production in 1861 and by 1864 some 77,000 were produced by Smith & Wesson alone. The pistol was light at 1 1/4 pounds when unloaded. The weapon's light weight made it an ideal sidearm for both infantry officers and cavalry soldiers. This was especially true of cavalry soldiers as weight put on the horse was a determining factor in survival. Cavalry units in the Civil War often limited the body weight of the men to no more than 145lbs with the addition of roughly 60lbs of gear as a maximum. The rule was to never exceed 200lbs being put on the horses back. This was rider and gear totaled together. A light pistol was preferable for that reason.

As a .32 caliber pistol the #2 was not a terribly strong weapon. Its report upon firing was easily drowned out by the Springfield rifle and many other firearms in use at the time. The #2 fired a bullet at an average of 750 feet per second and backed it with 100 foot pounds of muzzle energy. Provided that a vital area was not struck by the projectile, an enemy soldier would in most cases not even be taken from their feet on impact from a moderate range. It was common for a soldier wounded with such a weapon to survive the initial wound and not perish for several days afterward.



The Model #2 fired .32 caliber bullets and benefitted from the new technology of a projectile and powder all cased in a single metal cartridge rim fire bullet. This new and more easy to transport ammunition was further enhanced in efficiency by the design of the pistol. The firearm hinged on top of the drum housing, allowing for the removal of the revolving drum for fast re loading. The experienced user could open the gun, remove the revolving drum, load cartridges and be ready to fire again in 10-15 seconds. This was a massive improvement in efficiency over the commonly used cap and ball revolving pistols of the time which often required up to two minutes to reload. In the event of a misfire, it was also more easily cleared and brought back into use as a cartridge could be removed from the revolving drum by hand.



This particular pistol is a Model #2 type 4 pistol. The type number is defined by small improvements made by Smith & Wesson as time went by, in this model's case it is larger serial numbers on the handle's bottom. This particular pistol was carried by Reverend William B. Rippetoe, First Lieutenant of the Eighteenth Battery light artillery which participated in such actions as the capture of Murphysboro and the Battle of Chickamauga.
Rippetoe's Sword
An 1861 Union infantry officer's saber carried by Reverend William Rippetoe of Terre Haute, Indiana during the Civil War. The weapon was an import from Germany, made by W. (Wilhelm) Clauberg, Solingen, who produced edged weapons from 1847-1918. The company sold swords and knives to both Union and Confederacy forces throughout the war.


This particular saber is unusually ornate in design. The guard is cast from solid brass and features a balled eagle with a banner in its beak. The banner has the Latin motto of the Union "E Pluribus Unum" or "From many, one". The eagle is surrounded by decorative leaves and branches and the whole of the image makes up most of the guard. Even the pommel of the weapon is done in a tiered design to add more decoration. The grip is also wrapped in twisted brass braids. The scabbard is also ornamented in brass.


The blade features a maker's mark of "W. Clauberg Solingen's" company with a sketch image of a knight in armor in the center. The other side of the blade has a circular indent in which "Proved +" is inscribed, which likely means the sword was impact tested in one form or another prior to shipment. Unlike a cavalry saber, the foot officer's saber did not have a curve to its blade. The curve in cavalry models was to prevent snagging on human bodies during combat; the result of a snag would be injury or forceful and sudden dismounting of the user from his horse. As infantry were not mounted, the sabers they were equipped with did not have to be curved. In any event, a weapon such as this would be one of last resort when combatants had closed ranks to the point that time for reloading was not given and hand to hand combat had ensued.
Housewife Sewing Kit
The Soldiers "Housewife" sewing kit was a standard issue item in the Union Army at the time of the Civil War. These were tiny versions of the tools used by tailors to mend clothing. As tailors were not readily available, soldiers were expected to maintain their own uniforms. The "Housewife" sewing kit came with limited but adequate amounts of the things needed to do just that. There is a wide range of variations but generally the sewing kits included several compartments for a thimble, needles, various threads and small bits of material to patch holes in clothing.



The ability to have soldiers mend their own clothing was essential in saving cloth resources that otherwise would have gone to replacing whole uniforms when a patch and some stitching would have made the damaged item still functional. Housewife kits were also convenient in that they were made to fold or roll up in order to take up less space in a haversack. Most were small enough to be carried in pockets.



This particular housewife kit is backed in oiled black leather with a single strap to close the kit for transport. The inside has three large pockets and one small pocket for a thimble. It also has three leather loops for needles. On the inner pockets, there are stacks of material bits sewn onto each other. This was a convenient way to keep scrap material for patches organized and in place.


Sharpshooter's Glasses
Within the Union and Confederate Armies during the Civil War, special groups of rifle marksmen were organized into sharpshooter units. The name "sharpshooter" may have its origin in the name of one of the three rifles used by these special units, the Sharps rifle. In some Union Army recruiting efforts, shooting contests were held to allow men to compete for positions in sharpshooter units. In many instances, units of sharpshooters were attached to larger infantry units and used to demoralize enemy forces. In order to have a view that was consistently good, they were often issued special sharpshooter glasses.




These glasses were made specifically to hone the shooter's line of sight and reduce glare from sunlight. They had tinted lenses that contained a lightly tinted but otherwise clear circle for sighting through. The glasses were made in a one size fits all fashion and were no larger than a pair of reading glasses. An added bonus of the glasses was that they also helped to keep smoke and powder from arms fire out of the marksmen's eyes.